Hello aspirants, short notes are really like a Brahmastra (Good Weapon)  for  JEE. If one has regularly practiced it, concepts will be in finger-tips very easily. Every topper has made and used the best out of them. So how to make one?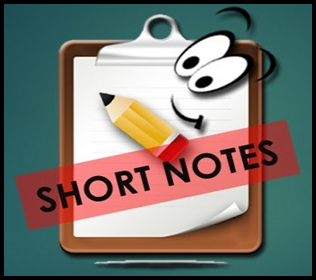 FOR THOSE WHO HAVE  ENOUGH TIME
Things to keep in mind before making Short Notes
Firstly, make sure that your notes shouldn't be too long, you may use some abbreviations because the short notes make everything revised at once within a very small amount of time.
Secondly, use different colors for making short notes   (at least 3 namely Blue, Red, Black)
Thirdly, your SHORT NOTES should also  include the following points:

Extract the most important points from the class notes of coaching and you may mention a derivation there
Also use the NCERT to pick the most important points to remember

Try to make a flowchart and diagrams for a quick glimpse.
Make the short notes  precise and to the point, no extra points
Make sure that you should make all your Short Notes of a chapter Serially wise or Number wise.
FOR THOSE WHO DON'T HAVE ENOUGH TIME
Things to kept in mind before making Short Notes
You may use Rank Boosters / One-Shot notes from different Coaching institute, you may find one in JEE MAINS GURU TELEGRAM CHANNEL or WEBSITE       https://t.me/jeemainguru
Remember if your concepts for any chapter or if you have not completed any chapter then don't use the short notes because it used for revision but it doesn't clear concepts, so if one doesn't have completed the any chapter then don't attempt it by reading short notes, instead revise the chapter which are already completed
If you just entered class 12 then you can still make it, but one who is very near to JEE exams should download it and can study from via other devices or may print them  manually from JEE MAINS GURU TELEGRAM CHANNEL or WEBSITE
When to use SHORT NOTES?
Can be used generally before any mock test/AITS.
Can use it when you are not confident enough for any particular chapter then it boosts your confidence.
Can be used before JEE exams for gaining confidence because most of the students are very tensed before exams, but this will definitely help it out.
IMPORTANT LINKS:
· JEE MAIN GURU TELEGRAM CHANNEL : https://t.me/jeemainguru
· Can also watch:
post by kshitiz